Are you replacing your current computer? Laptops, mobiles, PC's and other devices are likely to contain private and sensitive information that you do not want others to get their hands on. With electronic devices and the internet increasingly being used in our daily affairs, from work to personal banking, our devices are home to evermore sensitive information, including passwords and credit card information.
If you are in business, the options described in this article are not suitable for bullet-proof, regulation and standards compliant, business IT disposal. Business users should always seek the help of an accredited IT asset disposal specialist to ensure their business data is safe and they are compliant with their jurisdictions laws and regulations.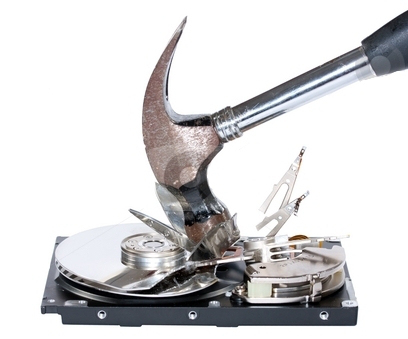 Data deletion options
Physically destroying the device
For businesses in the UK, this may not be an option for IT asset disposal as there are regulations to control how companies remove and renew their electronic equipment, such as the WEEE directives. However, for home users, this involves physically destroying the device and data storage media so that it is inoperable and beyond repair (think taking a hammer to your hard drive!).
Advantages of physically destroying your equipment include:
Primarily, the main advantage of physically destroying the device is that after being destroyed, data is likely to be recoverable only using very expensive specialist equipment.
From a convenience perspective, you don't need to use specialist equipment to perform the destruction – your average hammer should do it!
If the data storage media is removable, for example a computer hard drive, you can destroy the media separately and leave the rest of the device alone. The device can then be reused with new media installed. Small removable media such as DVD's and USB flash drives are best suited to physical destruction.
Drawbacks to choosing to take a hammer to your electronic devices include:
You obviously have to replace the destroyed media if you wish to use the device again.
If the data storage media is not removable, your only option is to destroy the device itself, which can obviously prove costly.
Taking the data storage media out of the device is likely to invalidate the warranty.
Health and safety, plus environmental concerns are caused by fragment particles contained within hazardous elements such as batteries and mobile phones. You should seek specialist help if you are unsure about whether the device contains these hazardous elements.
Data deletion software
Data deletion software typically works by overwriting the data with 'junk' data one or many, many times. There are numerous data deletion programs available to home users.
Specialist companies tend to use enterprise level tools such as the market leading Blancco data deletion suites. These tools provide additional levels of assurance but are likely to be prohibitively expensive to buy, and require specialist training to operate, making them out of reach for the vast majority of home users.
Some pro's of using data deletion software include:
This method is easy to perform and cheap.
The data storage media is reusable after the operation.
Some con's of employing data deletion software include:
Wiping large drives can take a long time when overwriting many times (which the software developers recommend as being the safer option).
Data deletion software is not applicable to some media such as write-once CD's or DVD's.
If you are a home user and you are not confident about performing data deletion yourself, you can always get assistance from a professional who specialises in the area. For equipment in a business environment, it is always highly recommended to contact the experts when decommissioning or replacing your company IT equipment.