With just over a month left of 2013, we thought it was about time to look at some of the predicted web design trends for 2014. Whether you are a web designer looking to keep up to date with the latest techniques or a business owner considering a website re-vamp in the New Year, keeping these top trends in mind will help you stay one step ahead of your competition.
Single page design
Whereas in the past most websites were made up of a number of pages featuring different content, next year it is expected that more and more websites will make use of single page designs. This newly popular type of web design puts all of a website's content on one page and requires the user to scroll to reveal more information. Although this is a great design for some websites, others like ecommerce websites, may find it slightly impractical.
Mobile first web design
Responsive web design has become widely used over the past couple of years, but some web designers are now taking it a step further by using mobile first web design. This is where you create a responsive web design, but rather than having the primary focus as the traditional desktop user, you think about the experience created for mobile user instead. By tailoring a responsive web design and content for smartphone viewing it is thought that designers will be able to create sleeker, more modern and more user-friendly designs, removing some of the unnecessary content that slows down page loading times.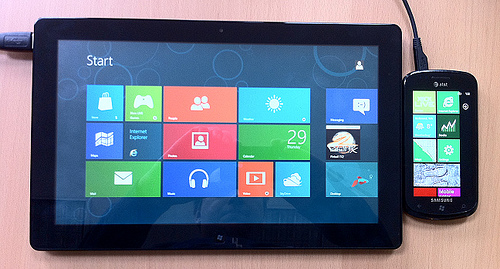 Flat web designs similar to the Windows 8 interface will be popular in 2014.
Image source: http://farm8.staticflickr.com/7225/7039000185_4179132c76.jpg

Large buttons
Expect to see web designers incorporate large buttons into their designs next year. More and more websites will feature big and bold buttons which are not only easy to see, but easy for touch screen users to press on their smartphones and tablets! The big button trend appears to be yet another design trend that has been inspired by mobile app features and layouts.
Flat designs
Over the past couple of years web designers have been doing everything in their power to make web designs pop off the page and look almost 3d. Just as they begin to master one thing, it becomes trendy to do something else. Next year expect to see a swap to flatter web designs. Think coloured blocks, tiles, basic icons and bold typography, all of which will provide a simplified user experience. If you take a look at Microsoft's Windows 8 Interface or Apple's IOS7 interface you will get a good idea of the type of designs we are talking about.
Retina support
More and more technology manufacturers are following in the footsteps of leading brand Apple, by creating high density displays for their devices. Apple's Retina display is currently used on the new iPhones, iPads and MacBook Pros. Due to the fact that technology companies are creating hi-resolution monitors and screens, there is a need for web designs to up their game by creating web designs that offer retina support.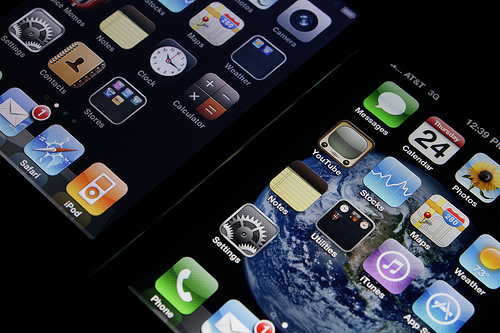 New web design layouts should accommodate devices with retina displays.
Image source: http://farm2.staticflickr.com/1190/4731067716_61b0fe8b59.jpg

Conclusion
Just like with fashion, a new year marks brand new trends in the world of web design. If you are thinking of having a brand new web design created for your business website in the New Year, then it is a good idea to keep these trends in mind, as they may help you get a step ahead of your competition. A specialist company in the field is Revive Digital Media; consider them locally for web design in Essex or projects throughout UK and the world.
It is also essential that professional web designers are up to date with the latest design trends, as it is more than likely that they will need to learn new coding and design skills in order to meet the ever-changing needs and requirements of their customers.
Image credits: Filip Skakun & Yutaka Tsutano